Poker at The Stuffed Olive
Every Mon, Thurs & Fri - The Stuffed Olive - Free Prizes & More!
FREE Texas Hold'em Poker Tournaments at The Stuffed Olive every Monday and Saturday at 7PM - 11PM. Sit back, relax and let our Dealers shuffle your way to free prizes and entries into major casino poker events. New players can pre-register or walk-up. We usually hold 3 tourneys at every poker event. Additional wins will increase your starting stack It is a great way to meet new friends, play poker at a competitive level for free, and sharpen your poker skills, without emptying your pocket book.

As you collect points you may also qualify for our other Prize Tournaments:

Diamond Tournament - Top 50 players play for a $100-$500 Prize monthly

Hearts Tournament - Top 50 players play quarterly for a Sponsorship to a casino tourney with a $100,000 guarantee prize pool

WFP Borgata Open Final - Top 100 players play annually for a Free $3,500 Sponsorship Seat in the WPT Borgata Poker Open!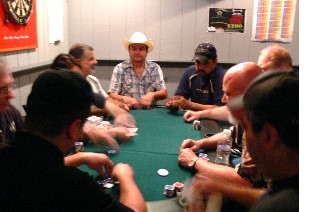 The Stuffed Olive Bar & Grill is locate at 100 Bloomfield Ave, Pine Brook, NJ 07058. The Stuffed Olive is a laid back establishment where great food, specialty drinks, and friendly company collide. Enjoy a full menu of great American favorites like their signature juicy burgers, fresh seafood, and nachos piled high. The place to just relax and unwind with a cold beer or specialty cocktail and catch the big game on their HDTVs. Whether poker, shuffleboard or pool is your game, you're sure to find a fun time! Join us every Monday and Saturday for free poker.

Our Poker dealers are always available and work for tips, so you don't have to deal cards yourself or manage the pot. Must be 21 years or older to play.

It's 100% Free to play so when you lose, you've lost nothing! Whether you're a skilled poker player or just want to learn the game you see all over the media, this free poker league is just for you. And, as a bonus, we don't make you jump through hoops to win a prize – simply play, earn points, and qualify to win prizes on a monthly and quarterly basis. That's every month and every three months without fail!
---
We Have Dealers
Sit Back, Relax and let our Dealers "Shuffle Your Way to Great Prizes and Atlantic City Casino Sponsored Poker Events".
Get Social
WFP daily poker tournaments is a great way to get out and meet and make new friends. Come alone or bring the gang, either way you'll have fun!
It's 100% FREE!
There are NO fees, NO buy-ins, NO cover charges, NO drink minimums … there is NO risk of losing anything, but plenty to gain.
Great Prizes
FREE sponsorship to play in a Major Poker Event. Daily, Weekly, Quarterly and Annual prizes, like our sponsored seat in a tournament with a $100,000 guaranteed prize pool.
It's Never Too Late
It's never too late to join WFP and catch up to play in the final tournament for the free major event sponsorship seat!
Bonus Chips
$500 in Bonus Chips and Guaranteed Seating, if you Register 1 Hour in advance and arrive by 1st game start. If you arrive after game start it's $200. Bring a friend and both get $1000 more!