Thanks for joining and becoming a new WFP

member

player

friend

!
Step 1 - Go to our "Schedule" page find a tournament you wish to attend.

Step 2 - - Arrive at least 15 minutes before game start and see any Dealer for your WFP Player Card.

Step 2 Alternate - Go to our "Game Register" page, enter your name and 0000 (four zeros) for Player ID, then choose your location and hit the Sign-Up button on the bottom of the form. That way we know you're coming and you'll also qualify for "Bonus Chips"!
---
Just remember to.....
Show up a little early especially if it's your first time. See one of the Dealers and tell them you're a new player and they'll give you your new WFP Player Card. Also many poker host locations may have dinner and drink specials on poker nights so take advantage of the specials. Please remember, your local poker host location is providing this entertainment service to you Free Of Charge. Please be sure to support them (don't walk-in with a cup of coffee in your hand, buy your coffee, food or drink there) and support your WFP dealers (they work for tips).

So. what are you waiting for? Grab your friends and get in on the action! And Let our Dealers, shuffle your way to a Major AC Casino Poker Event! Good Luck at the poker tables!
Oops, forgot the fine print.....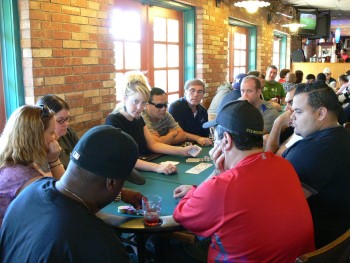 I understand that by joining WFP Enterprises LLC (WFP) events, that Gambling is Strictly Prohibited. If I am found to be participating in gambling, of any kind, at any WFP event, I will be immediately banned from playing in any future WFP event.

I hereby certify, that I am not affiliated with, or related to, any WFP owners, managers or employees, or have any interest in WFP or its competitors.  Should it be discovered, that I have misrepresented the aforementioned, I will forfeit my sponsorship eligibility.  WFP reserves the right to pursue monetary damages.

I further agree to grant WFP the right to use, in any media, my name and likeness, for purposes of advertising, promotion, publicity, and exploitation, at any and all WFP events, without compensation. I also agree that I will not share any confidential information about WFP operations with any similar company(s) or persons, nor shall I assist, promote or enter into a competing business, without the express written consent of WFP.

I also agree to indemnify and hold harmless WFP its officers, directors, shareholders, members, employees, agents, designees or assigns, from any and all liabilities, damages, claims or causes of action, resulting from participation in any WFP events.

I hereby declare, that I am at least 21 years of age, and I understand and agree to abide by all WFP Rules. I understand Rules are subject to change without notice, and all management rulings, during any WFP event, are final.
---