Host an Event at Your Location
Thanks for your interest in becoming a new Poker Host!
WorldFreepoker.com is the largest and longest running poker league in New Jersey. Poker nights are profitable and popular. Similar to pool or dart leagues, players compete in free poker tournaments every week right in your site. Rather than money, players are competing for points, bragging rights and the chance to win Free Seats to Major Poker Events, like the World Series of Poker or World Poker Tour.
---
You handle the food & drinks, leave the rest to us!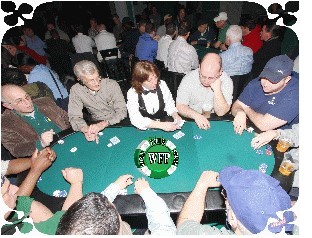 We bring the poker tournament experience and knowledge and you just need to supply the floor space and staff to handle the crowd requests for food and drinks. We provide all the labor and equipment needed for a successful Texas Hold'em Poker tournaments in your place of business. We handle everything, except drinks and food. We provide professional dealers, tables, chips and everything needed to run a professional poker tournament. It's a fun and unique experience for your new and current patrons.
If you're looking for a way to bring new paying customers to your business, Contact Us! We will promote your business to thousands of NJ based poker players. We will promote you throughout our websites and to our extensive NJ based newsletter. Our motto is simple, If You Don't Make $$$, We Don't Either Cause That's How We Get Paid! WorldFreepoker.com brings many years of experience, operating and managing successful entertainment services at restaurants, sports bars and other venues. Using proven methods, customized league tools, high quality equipment, and our honed expertise; our professional services make your event night a huge success.
Cash in on the latest poker craze through our low cost, high profit poker league promotion. If you're looking to turn around one of your slow nights, WorldFreepoker.com can help bring in the crowds!
---
Some Great Benefits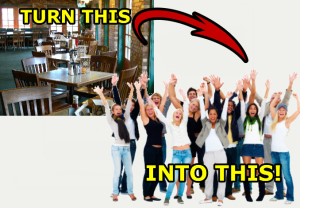 Big Crowds
Our average tournament brings in 25+ players per night; turning one of your slowest nights into one of your busiest.

Crowded Parking Lot
Crowds Draw More Crowds! Having 15-30 or more cars in your parking lot helps to create the "buzz" you need to get even more customers through the door.

New Customers
You'll quickly find players who have never been in your bar before are now customers that will come back on your non-poker nights. Live poker is a great reason for your "regulars" to come in on new nights.

High Energy in Your Bar
It's all about having fun and our players know that. The "buzz" will start to flow throughout your venue and will result in higher energy levels and bigger sales. Having our entertaining poker events will inject new life into your bar.

Big Profits
Low cost entertainment means bigger profits on your end, and sales you can count on.

Week after Week
Giving your customers a chance to win Tens of Thousands of Dollars is the promotional incentive that will keep them coming back. That means sales you can rely on week after week!

Happy Employees
Are your bartenders, cooks, and servers sitting idle on a weeknight? Then let us draw your big weekend crowds into your place on a weeknight. We'll keep your staff happy, because bigger crowds mean more & bigger tips.
---